About Apo View Hotel
Apo View Hotel has 156 exclusive rooms for all types of visitors. There are 7 different room classes to choose from: Deluxe Twin, Superior, Executive Suite, Junior Suite, Family Room, Deluxe Matrimonial and the Presidential Suite. Each room is designed specifically to provide you ultimate comfort with the right ambience that evokes the comforts of home.
Our History
Established in 1948, Apo View Hotel started as a modest 15-room lodging facility with a restaurant, providing Davao visitors a convenient place to stay. With the hotel's unique kind of homey ambiance, it's popularity grew extensively. From it's modest beginnings, the Apo View became a first-class hotel. In 1978, in spite of the growing civil unrest in the City during the 70s, the hotel underwent a major development and expanded to a 100-guest room establishment. Tragedy struck in 1988 when the iconic hotel was hit by fire, forcing the management to close its doors. Painstaking efforts by the City and the hotel owners were undertaken to bring back the allure of Apo View. The hotel was renovated and 46 rooms were added.
In 2014, under a new management, the hotel facility was further upgraded. Since the hotel was relaunched in October 2017, Apo View Hotel has about 156 guest rooms.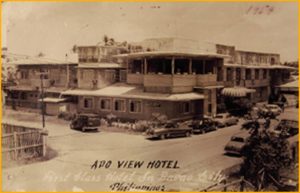 Our Services
Top of the Apo
Davao's bucolic and picturesque views await you at the most vantage point of the city. The picture perfect backdrop to make any gathering memorable.
Grand Ballroom
The perfect venue that can accommodate large function events like conventions, weddings, shows, to name a few. For special arrangements, the ballroom can be divided into two function rooms (Ballroom A, Ballroom B).
Blue Room
An industry-themed night spot that offers an impressive selection of cocktails and alcoholic beverages, where
you can chill and listen to the music of in-house DJs.
Entrée
The restaurant that lets you indulge in a culinary feast, as appetizing menus are served in a wide variety of local and international cuisines for breakfast, lunch and dinner.
Pool Deck
A perfect spot to bask in and simply laze under the sun or take a few laps as you start or re-energize your day.